About
Art Capture is an expert imaging resource established in 2001, serving the imaging needs of artists, galleries, museums, and graphic arts professionals who want the best reproduction of their original art. The core of our work is the photography and scanning of two-dimensional art work (oil paintings, watercolors, etc.) for reproduction on our giclée printer, or for use in any other printing process. Photographing art for large scale printing is a specialty requiring skills and equipment most photographers don't have. At Art Capture it's all I do.
Experience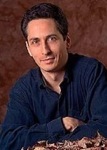 When you have your art scanned at Art Capture you'll be working with me. My career in the graphic arts industry began in 1986 when I started Trademark Color Separations Inc., a small pre-press company serving agencies, designers, printers, and larger color trade shops. My 20 years work in the graphic arts pre-press industry taught me a wealth of knowledge about image processing for nearly every type of commercial printing (offset, newsprint, flexo, screenprint, etc.) and the particular requirements for each.
Every piece of art contains a bit of the artist's spirit. In the reproduction process I try to nurture that spirit, as if it were my own.
Sincerely,
Darryl Schmidt